Trees are so vital to a healthy planet and healthy lives for all of us, humans and critters alike, that this is a great story time for every season, and on special days like Arbor Day or Earth Day. This storytime received an enthusiastic response from kids and preschool teachers.
Book: A Friend for All Seasons / Julia Hubery I had some reservations about this book because it shows raccoons hibernating for the winter, and raccoons don't hibernate, at least not in the places I've lived. Also, a hedgehog makes an appearance and raccoons and hedgehogs don't live in the same world region. These kinds of little details are important to me - oh, I know, animals don't talk like humans either, so maybe I should just chill. The kids liked the story well enough and the illustrations are cute.
This is fun to try - kids really enjoy the challenge,
and it's great for all of us to practice our balance.
Tree Action Song
(tune: Head, Shoulders, Knees & Toes)
This one is mine.
I love making up new rhymes to familiar tunes & rhythms.
Talk through it with the kids first, then sing it 3 times,
first time slow, then faster, then really, really fast! That last time should be a blur, you're singing so fast and moving so fast you're not really making sense.
They love it and will start laughing like crazy.
actions:
Leaves (hold hands up and shake them like leaves)
Branches (stretch arms out)
Trunk (stand straight with arms straight down at sides)
Roots (touch toes)
Birds (make beak with thumb & forefinger
Nests (cup hands)
Seeds (crouch down in a ball, with arms wrapped around legs, head down)
Shoots (stand up and reach high like you're growing)
Leaves, branches, trunk & roots, trunk & roots,
Leaves branches, trunk & roots, trunk & roots.
Birds and nests and seeds becoming shoots,
Leaves, branches, trunk & roots, trunk & roots!
The Tree in the Wood / Traditional, adapted by Christopher Manson
Based on the old folk song, The Green Grass Grows All Around, this is a beautifully illustrated book that adds a little twist at the end. Instead of a bird, a feather, a bug, as Pete Seeger sings it, this version ends with a mother, a baby, and a boy who plants an acorn, which grows into a tree. It's a little tedious to read, but the kids seemed transfixed, and I have to remember how much I liked repetitive stories, songs and jokes when I was little, I'm sure that it tickles our young brains somehow and neurons start connecting and firing. We all started to sing the last line (the green grass grows all around) which was more fun than me laboriously reading the cumulative text.
Singalong: The Green Grass Grew All Around
You can find versions of this song and its hand motions on the web.It is known variously as The Green Grass grew all around, or grows all around, or The Tree in the Wood.
If you're a confident singer you can lead the singing yourself.
I chose to singalong with the CD Greg & Steve: Rockin' Down the Road.
I like their shorter version of the song, and I like the echo track.
If you haven't used Greg & Steve CDs in your storytimes, I highly
recommend them, they are tons of fun.
American Sign Language for "Tree"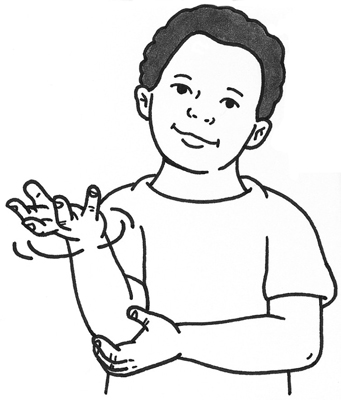 Big Bear Hug / Nicholas Oldland A very funny, charming book with a serious message, this is one my current favorite picture books. The illustrations are simple and effective - kids and adults laugh out loud on almost every page. The bug-eyed animals getting a big hug from the lovable bear, the shocking climax, and gentle thought-provoking ending make for a very satisfying story.
Another rhyme I wrote, and have adapted to several themes.
Reach up as high as a big bear's eye.
Reach down as low as a big bear's toe.
Climb up a tree, how far can you see?
Don't make a sound, now climb down to the ground,
Curl up snug on the rug, and give yourself a great big
bear hug!

We'll end on a quiet note with this book: Trees: a poem / Harry Behn.
This is almost too slow for little kids in a group.But it's a lovely poem, with beautiful pictures and it's just one line per page. The adults in our groups seemed to appreciate this quiet end to storytime.